Family overview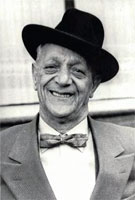 Derk van Vlaardingen (1890-1958)
The founding father of the Van Vlaardingen family of painters, Derk van Vlaardingen married Charlotte Josephine Dellen in 1912 in his birthplace Zwolle. The couple had seven children. Two of their sons, Jan, born in 1913, and Clement, born in 1916 in Zwartsluis, also became painters. They were introduced to painting by their father Derk, who himself received lessons from Otto Eerelman.
Jan van Vlaardingen (1913-1980)
Like his father, Jan van Vlaardingen was also a landscape painter. He lived for the largest part of his life in Hilversum and painted in the wider area around het Gooi and the Vechtstreek. He was a virtuoso in painting 'en plein air' and used a rich and varied pallet with magnificent green tones. Through his many exhibitions in Germany, France and Switzerland he acquired a large international circle of clients.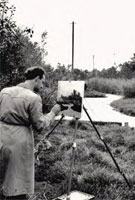 Clement van Vlaardingen (1916-1972)
A multi-faceted painter who applied many experimental and innovative techniques in his work, Clement van Vlaardingen created an entirely individual and characteristic style. His work has an impressionistic character. He painted big, with striking, powerful brush strokes. In his Italian work the colours are bright, and his pallet knife was his favourite painting tool.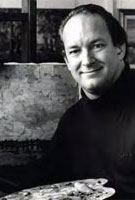 Dick van Vlaardingen (1947)
At a young age he received his first painting lesson from his father Jan and family friend Henri Mackenzie. From the late 1960s to the early 1970s he also had lessons from his uncle Clement. After five years of intensive guidance, Dick van Vlaardingen further developed his painting.