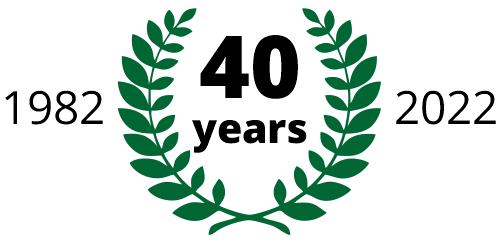 At art studio, gallery and family museum Van Vlaardingen in Maartensdijk there is a permanent exhibition of paintings by three generations of Van Vlaardingen, Derk, Jan, Clement and Dick van Vlaardingen. Moreover, the gallery houses a private collection which has been built up by the family since 1908. The collection includes work by fellow painters from 'het Gooi', such as M.H. Mackenzie, Jan Rijlaarsdam, Stephan Kip and Bernard van Beek.
Anniversary Exhibition
From Saturday 7 January to Sunday 29 January 2023
Opening hours ± Saturday and Sunday from 2 p.m. to 5 p.m.
Parking: parking lot restaurant Zilt en Zoet opposite the family museum.
In our Family Museum you can see a collection of more than 180 paintings by three generations of painters Van Vlaardingen and contemporaries from the Gooi.
CLASSIC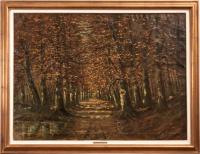 Autumn forest Lage Vuursche

Derk van Vlaardingen (1890-1958)
The founder of the Van Vlaardingen family of painters is Derk Hendrik Gerrit. He married Charlotte Josephine Dellen, who was two years younger, in his birthplace Zwolle in 1912. Seven children were born from this marriage. The sons Jan (1913) and Clement (1916) became painters, taught by their father. This painting was made during the period that the family lived in De Lage Vuursche. Then they moved to Kortenhoef.
'EN PLEIN AIR'

Jan van Vlaardingen (1913-1980)
Summer landscape, painted en plein air by Jan on one of his favorite
painting spots: the Kromme Rade. This runs along the Vuntus Plas towards Hilversum. Jan was a virtuoso painter of the Dutch landscape.
This painting is an example of the endless and varied use of warm green tones and painted with a brush.
MODERN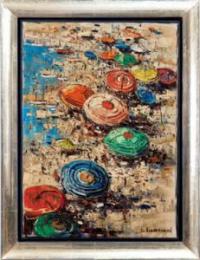 Parasols on the Côte d'Azur
Clement van Vlaardingen (1916-1972)
In addition to the Dutch landscape, Clement was inspired
by Mediterranean countries, in particular Liguria/Italy.
Smoothly painted with palette knife. He regularly visited this beautiful area with his mobile workshop: a Deux Chevaux. Clement was a versatile artist. In addition to oil paintings, he also made watercolors, gouches and pen drawings.
IMPRESSIONIST
Sailing before the wind towards the finish
Sailing competition on the Loosdrechtse Plassen. Title: "With spinnaker to the finish", during a warm, sunny day with a strong westerly wind.
Painted with a palette knife, applied thickly, making it colorful and very dynamic.